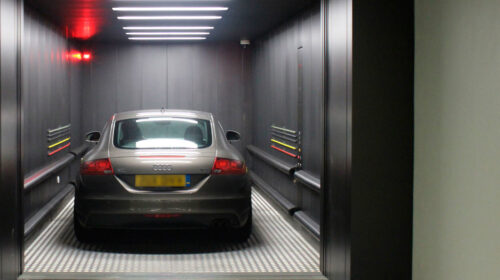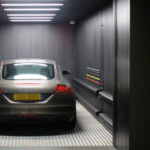 Description
A car lift is a form of automotive elevator that should be designed with separate requirements. The size and load of this type of car elevator must be suitable for a group of 4-seater, 7-seater or more vehicles, often used for apartments, car parking areas …
What is a car lift?
Car elevator is a type of car lift, so the design has separate requirements. The size and load capacity of this car lift must be suitable for groups of 4, 7 or more cars, often used for apartments, car parks…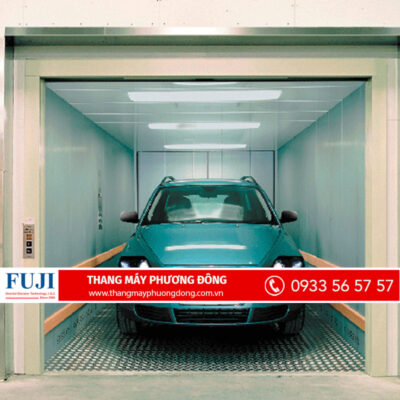 This type of car lift has a quick and accurate level of safety. The driver only needs to control the car to enter the elevator and at the same time control the elevator.
Advantages of Phuong Dong car lift
The elevator structure system is sustainable and safe, capable of withstanding the load of the vehicle and the pressure when the vehicle comes in and out.
The elevator has a low failure rate due to the use of an advanced inverter control system.
Elevators have low operating costs
Safety features of car lifts
1. Energy saving for elevators
The operating system uses a new technology inverter to make the ladder move durable and stable, saving more than 20% of electricity compared to the old system.
When not in use, the elevator will automatically turn off lights and fans during non-use to ensure no power loss.
2. Resume operation function for elevator when power failure
When there is a sudden power failure, the system will save power to help the elevator continue to move to the nearest floor and open the door to transport goods out.
Very essential feature for the factory when transporting goods to avoid the case of goods being stuck in the elevator when the power is restored.
3. Elevator safety function
Door lock safety: which floor door is not crowded because of any reason the elevator cannot run
Safety against door jams, door obstacles, the ladder door will automatically open
Safe travel for any reason of damage when the elevator moves past the allowed operation, the system will stop and stop the elevator immediately
Notes when using car lifts
In order for the elevator to operate properly, it is necessary to pay attention to the following issues:
1. Cars should not be loaded beyond the allowable weight of the elevator
Loading cars in excess of the allowable load will cause the tractor engine to operate at an excess of the specified capacity. Reduces engine life quickly, transport speed is slow, and it is not safe
2. Immediately contact maintenance when the elevator has problems
Even with the slightest problem, you should not use it because it will be very dangerous. The elevator should be stopped working and contact the elevator maintenance to check
3. Regular maintenance of elevators
Regular maintenance will help the elevator operate well. Make sure the elevator doesn't have small bugs that you can't see.
Contact Phuong Dong Elevator for accurate information and the most reasonable installation cost.
Hotline 0933 56 57 57 – Free consultation and survey