Homelift elevator – home elevator trends for apartments 2022
Thursday, 03/03/2022
webmaster
Homelift elevator is a mini elevator designed to be compact, saving space for your home. Therefore, homelift is very popular in use today with its luxurious and modern design.
Homelift is a non-standard type of elevator, specifically for renovators who want to install more elevators without having to change the structure of the house too much.
The advantages of homelift elevator
No need for pit pits, engine rooms, elevator pits
Various models to choose from for customers
Stable and durable operation
High space utilization rate, no extra space to build a pit, stone cladding like a traditional elevator
Power supply flexibly used 1 phase or 3 phase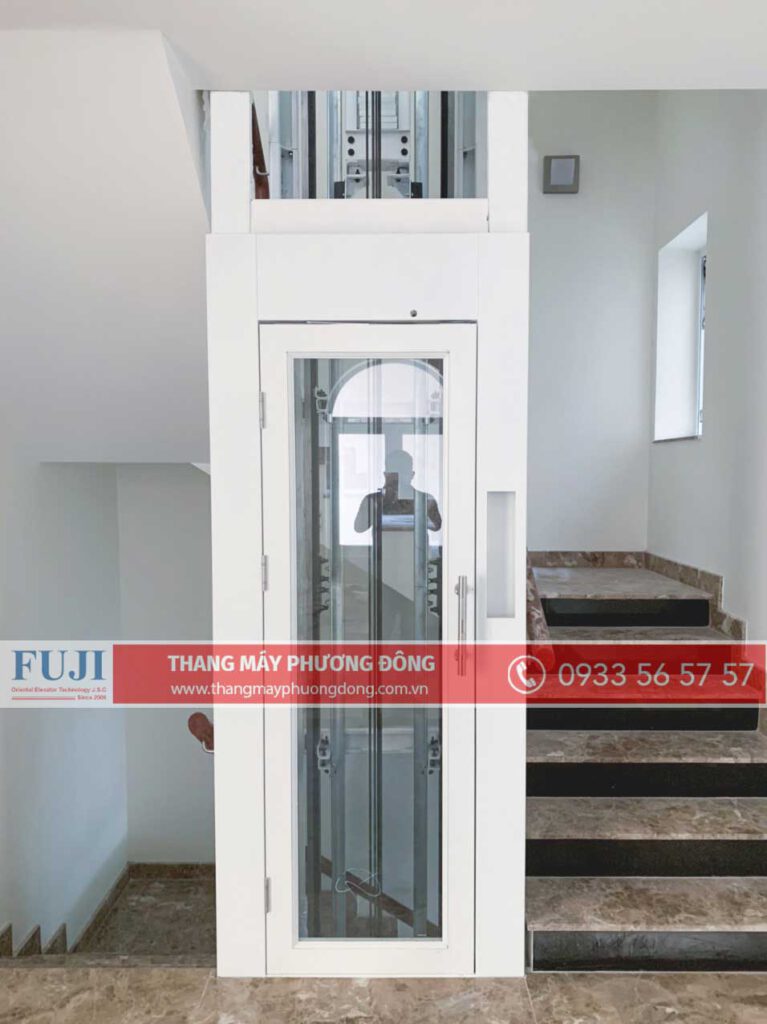 What technology engine does the homelift elevator use?
Homelift elevator with hydraulic technology
Moving operation by piston thrust
Advantages of hydraulic technology
No need to build a machine room
Energy saving thanks to hydraulic system
Fast and stable movement speed
Disadvantages of hydraulic technology
A hydraulic tank is required to support the lift operation
Using oil, it is necessary to change the oil regularly, it is easy to pollute with the amount of oil discharged
Repair cost is higher than normal type
Homelift elevator with cable traction technology
Operated by a traction cable system
Advantages of traction cable technology
Using a traction cable helps the elevator move faster
Cheaper price compared to others
Low maintenance and repair costs
Disadvantages of traction cable technology
Requires a large pit size, not suitable for a small area
Homelift elevator with screw technology
Use gears and belts to operate
Advantages of screw technology
High safety thanks to the speed brake system.
No need for a large pit area
Built-in charging system ensures the elevator still works in case of sudden power failure
Disadvantages of screw technology
High maintenance cost
After a long time of use, the propeller shaft is worn, so it leads to a stable sound when operating and reduces the life of the machine.
Diverse elevator door opening system
Elevator doors Hinged
The door system opens like a normal door with the structure: handle, lock, etc. The hinged door type is suitable for projects with small pits, renovated houses and no pits available.
Manually open hinged door ladder: use your hand to open the door normally
Hinged door opening door opens automatically: use the elevator button to open the door yourself
Elevator doors open automatically
You do not need to pull the door open, when you reach the floor, the door will open automatically like passenger elevators
Centre Opening
The type of elevator with doors opening from both sides is quite common in Vietnam
Slide open
Elevator type with sliding door opening to one side
Integrated safety system of homelift elevator
The rescue system will move the elevator to the nearest or lowest floor and open the door in case of sudden power failure
Anti-jamming system. The elevator door sensor helps the elevator to automatically open when there is an obstacle. Ensure the safety of the home with children.
Fire protection system: in the event of a fire, the smoke and heat sensor will operate the elevator to the emergency floor. Depending on the project, the location of the exit floor will be appropriately arranged.
General technical characteristics of homelift elevator
Load capacity 250kg, 320kg, 450kg
Speed 30m/p, 45m/p
Engine: Fuji
Power: from 1kw
Power used: 1 or 3 phase
Number of stops: from 2 to 5 floors
Prices of homelift elevator
Elevator price is always an issue that many customers are interested in, but there is no fixed price. Due to many factors that affect the price of elevators:
Elevator pit size
Lift load
Number of elevator stops (each floor used will install cabin doors, walls)
Elevator travel speed
Interior and exterior decoration for cabins
Origin of components and materials (imported from Asia at a lower price than imported from Europe
View more information price of Home elevator
How to choose a homelift elevator company?
Phuong Dong Elevator Joint Stock Company specializes in importing, manufacturing and installing prestigious elevators in Ho Chi Minh City. Ho Chi Minh. With more than 15 years of experience in the industry ensures peace of mind for customers.
Consulting elevators suitable to the needs and conditions of use of customers
Warranty and maintenance regime throughout when customers need it
Contact information:
Showroom: 40 Street No. 5, Van Phuc City, Hiep Binh Phuoc Ward, Thu Duc, City. Ho Chi Minh City
Email quotation: info@thangmayphuongdong.com.vn
Hotline: 0933 56 575 57