JOINT VENTURE ELEVATOR OR IMPORTED ELEVATOR
Thursday, 17/02/2022
webmaster
When learning about buying elevators, customers will encounter the situation that the elevators have many different prices and the difference is huge up to 1 billion. Since then, I am concerned about the problem of fake goods and poor quality goods when I see cheap elevators.
Most people misunderstand, elevators have such a difference in price because there are 2 types of elevators in the Vietnamese market, including joint-venture elevators and imported elevators. Let's see what is the joint venture elevator and what is the elevator to answer the above questions of customers.
Imported elevator and joint venture elevator
1. What is joint venture elevator ?
As an elevator using main equipment such as: controller, cable, tractor motor… imported from famous brands such as Fuji, Mitsubishi, Montanari… Particularly the elevator's cabin is processed and manufactured in-house. country. Finished elevator products will be assembled in Vietnam and subject to Vietnamese safety inspection.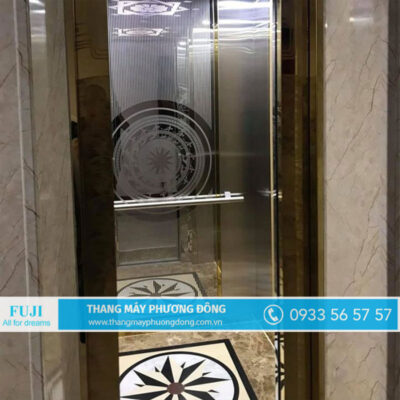 Therefore, customers are assured of the quality and safety when choosing a joint venture elevator
2. What is imported elevator?
Is an elevator manufactured and assembled in foreign countries by a closed line. Then import elevator components to Vietnam for installation and use.

Advantages and disadvantages of joint venture elevators
1. Advantages
Only the main components need to be imported, so the transportation is easy and fast.
Outsourcing and manufacturing cabins in Vietnam, so it can be installed for projects with non-standard pit sizes easily.
2. Disadvantages
Due to the domestic processing of elevator cabins, the finished product cannot achieve the same sophistication as imported elevators.
The quality of elevator operation depends on the installation unit, for experienced and professional installers, the elevator works as well as the imported elevator. In the case of newly installed units, the elevator will be easily damaged after a period of operation.
Advantages and disadvantages of imported elevators
1. Advantages
Đầu tiên nhắc đến chính là chất lướng lượng thang máy. Do thang máy được sản xuất và xuất khẩu theo tiêu chuẩn quốc tế nên từ chất lượng đến mẫu mã đều được kiểm soát chặt chẽ. Vì vậy thường lắp đặt cho các công trình lớn, những nơi sang trọng.
2. Disadvantages
Importing time is quite long and through many procedures to return to Vietnam, an average of 5 months or more.
The size of the elevator is designed according to the standards from the manufacturer, the project that wants to be installed must meet the correct size, otherwise it cannot be installed.
Elevator installation time
1. Join venture elevator
Installation time is quickly completed because components and materials can be imported and assembled. Usually 1-2 months.
2. Imported elevator
Depending on the time it takes to import the elevator, in favorable conditions, it takes about 6 –   7 months to install the elevator and put it into operation.
Prices of elevator
1. Join venture elevator
Joint-venture elevators are widely used in Vietnam partly because of their affordable prices. The average price is from 300 million VND to 400 million VND.
Warranty, maintenance and replacement of materials are also easy, so the monthly maintenance cost is relatively low
2. Imported elevator
Compared to normal, imported elevators with components are very expensive, can be up to 3.4 times
The warranty and maintenance must be done by the right employees of the company, the replacement equipment should be expensive.
Each type of elevator has its own strengths, depending on the conditions and needs of choosing an elevator. According to experts, for large projects with more than 10 floors, elevators should be used.
View more: thang máy gia đình Fuji có tốt không?
Hotline – 0933 56 57 57