Regulations on safety of apartment elevators 2022
Friday, 21/01/2022
webmaster
The Ministry of Construction has issued Circular 03/2021/TT-BXD stipulating national standards on apartment buildings, including some additional requirements for elevators in apartment buildings. The Circular takes effect from July 5, 2021.
In the situation of many elevator-related accidents in apartment buildings, the Ministry of Construction has added a number of requirements for apartment elevators.
Minimum number of elevators
Apartment buildings, mixed-use apartments of 5 floors or more must have at least 1 elevator, and from 10 floors or more must have at least 2 elevators. At least 1 lift must have the appropriate cabin size according to medical requirements.
An apartment building with 70 apartments or 200 residents must have at least 1 elevator with a capacity of not less than 630 kg. In case there are 2 or more elevators, the load is not less than 450kg.
Fire prevention and fighting function of apartment elevators
For apartment buildings, mixed-use apartment buildings with a height of more than 50 m or with a depth of the bottom basement floor (taking into account the height of the exit to the outside) greater than 9 m, each fire compartment of The building must have at least one elevator meeting the requirements of transporting forces, means of fire fighting and rescue according to TCVN 6396-72:2010 and TCVN 6396-73:2010.
Safety regulations
The width of the passenger elevator lobby must be arranged in accordance with the applicable standards.
Lifts must have anti-jamming protection devices, automatic rescuers and internal telephone systems from the cabin to the outside. Elevators are only allowed to operate when all doors are closed.
Regulations on inspection
Elevators must ensure safety according to QCVN 02:2019/BLDTBXH and be tested for safety before being put into use in the following cases:
After completing the installation
After repairing the elevator with a large item
After a serious problem occurred and it was fixed
After the expiration of the inspection or according to the directives required by the management agency on occupational safetyg
Elevator room function
The engine room  must meet the following requirements:
There is a safe and convenient way for repair and maintenance
The engine room must be arranged separately from the top apartment
The ladder well must meet the requirements of sound insulation according to QCXDVN 05:2008/BXD and noise protection according to QCVN 26:2010/BTNMT.
Arrange the engine room reasonably, avoid contact with the water and electricity pipes of the apartment
Elevator requirements must be ensured for the elderly and disabled
Control buttons must have characters with contrasting colors or perceptual cues and Braille.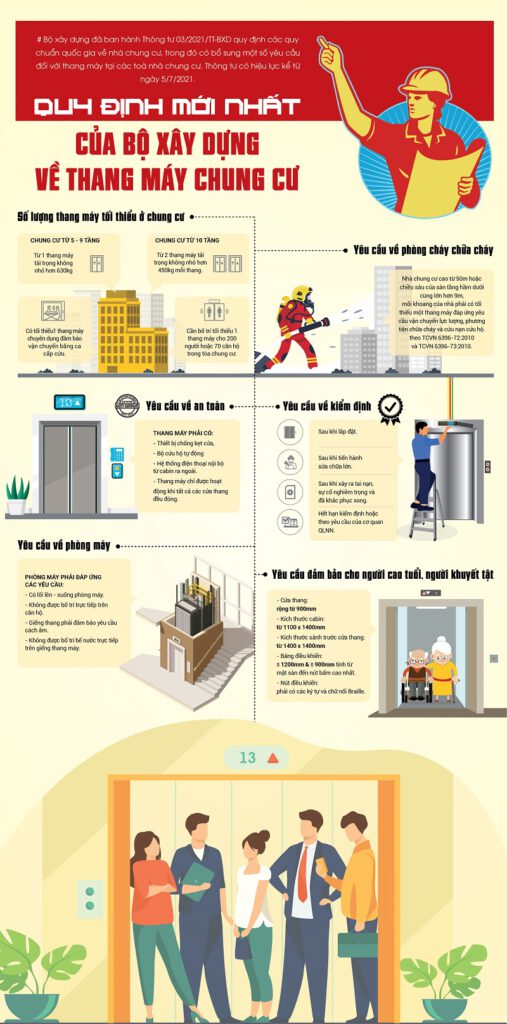 With nearly 20 years of experience, Phuong Dong Elevator has designed and manufactured many elevator models according to market trends. Meet the safety standards prescribed by the Vietnamese occupational safety management agency
If you want to find out more information, please contact   HOTLINE & ZALO – 0933 56 57 57